CoFestival – International Festival of Contemporary Dance Performance premiere and festival opening FB event> Fifteen years after the premiere of the dance hit 1:0 (SNT Opera and Ballet Ljubljana, Glej, 2000), the selection of the Fičo balet original cast decided to perform a dance, football and personal introspection and check how supple their bodies still are
CoFestival – International Festival of Contemporary Dance
Performance premiere and festival opening
FB event>
Fifteen years after the premiere of the dance hit 1:0 (SNT Opera and Ballet Ljubljana, Glej, 2000), the selection of the Fičo balet original cast decided to perform a dance, football and personal introspection and check how supple their bodies still are and if they are, after all this time, still capable of an appropriate dance-football attack. The performance 1:0 relaxed the classical ballet sentiment and its gracefulness with football humour and irony, and the cast introduced sports jokes into the proverbially mythical and fairytale narrative of the classical ballet literature, because it missed them somewhat in the serious milieu. 1:0 represents one of the final charming dance-theatre goals of the 1990s, the kind that was characteristic for the performing youthfulness of the first years in the new country and for dance theatre, extraordinarily popular at the time. Spectators will see if the humour of 2:0 can also score a good dance goal against us.
The dance performance is a continuation of the legendary 1:0 performance from 1999. The choreographer puts cleats on the dancers, transforms the stage into a football stadium and plays a dance performance on the thin line between art and populism, dance and sport, classic and modern. The original ensemble (Goran Bogdanovski, Dejan Srhoj, Goran Tatar, Damjan Mohorko and Gregor Luštek) came together again after 16 years.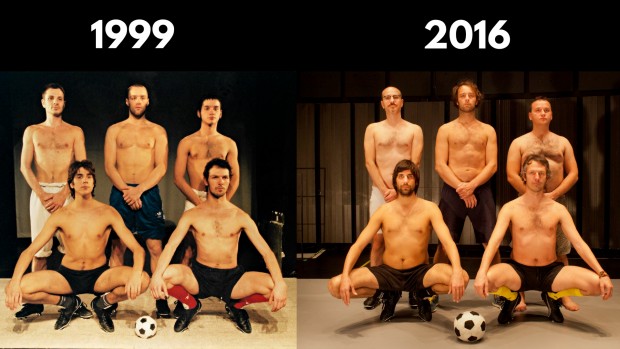 Organisation: Fičo Balet, Kino Šiška and NDA.