Štream in numbers
23. 06. 2020
The štream series of interactive streams, which took place between 5 May and 16 June, drew to a close with a concert by pijammies. Together with ten concert organizers and others, we prepared 16 varied events, with a total of 28,360 views on Zoom, Facebook and YouTube as of 21 June. All performers received a fee, while each event was free to watch.
With the štream series of interactive streams, Kino Šiška and ten of its regular partner organizers filled the live music void caused by venues going into lockdown. Fourteen one-hour concerts with full lighting and sound capabilities were executed at a high production level, with the audience involved through digital channels. The viewers could support the performers or organizers through donations. Second wave, we're ready!
The fourteen concerts were soon enhanced by two so-called štream special episodes: a concert by Silence and guests (in collaboration with RTV Slovenija and live broadcasts on TV Slovenija 2 and Radio Val 202) and the interactive dance event Alien Express: "Infected" Flight. Štream also went beyond Slovenian borders – through cross štream MKC Skopje, we merged concert stream programs with the Skopje Youth Culture Centre. The Macedonian partners enhanced our štream with their program of first-class Macedonian artists in parallel genres.
Štream in numbers*
The concert streams also provided us with insight into štream viewing dynamics. On average, each event was viewed by around 500 people during the stream (91 on Zoom, 373 on YouTube), while 553 people watched more than a minute of the stream on Facebook. 
The total number of visitors who watched the events "from the front row" on Zoom was 1,359, 18,673 people watched the concert videos on YouTube by 18 June, and 8,328 people watched more than a minute of the videos on Facebook. In total, we recorded 28,360 views. On average, viewers stayed on Zoom for 33 minutes, for a good 20 minutes on YouTube, and for 22 seconds on Facebook. 
During the 13 events with donations to the acts or organizers possible, viewers contributed a total of 2,148.61 EUR. 
Coverage
Štream was widely accepted as a positive project, both among the performers and organizers, who could perform during a time of closed venues, and the public. Most major Slovenian media reported on the project, and the Odzven online magazine of the Slovenian Music Information Centre regularly reviewed the performances. All of the streams are also published on the Kino Šiška YouTube channel, with the total number of views (not counting direct views during streaming) over 12,000 already.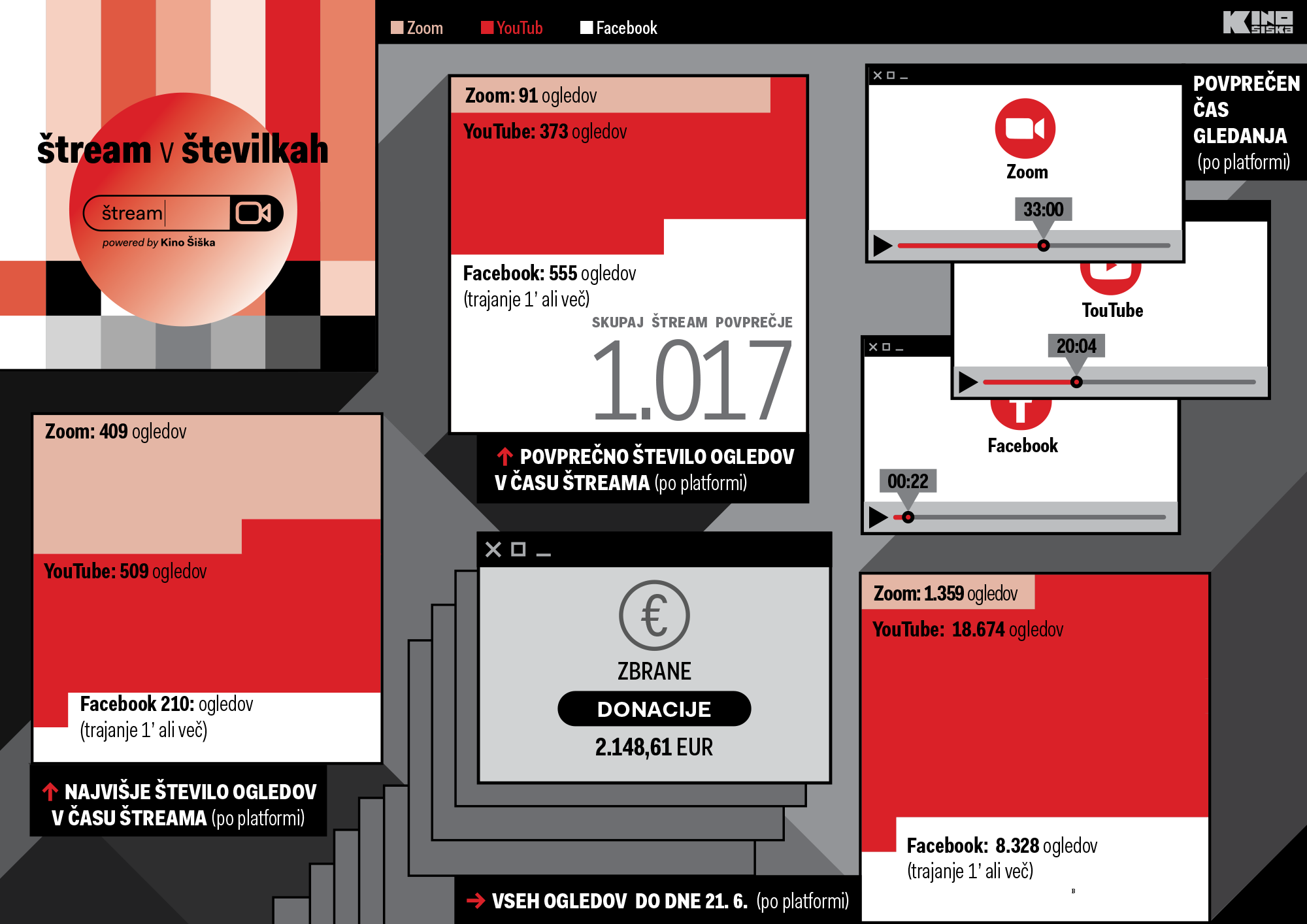 Plans for the future
On Wednesday, 24 June, the third edition of the free concert series Summer in Šiška is launching in the summer garden of Café Kino Šiška. Until 2 September, a total of 11 acts in different genres will perform each Wednesday at 8 PM. 
*The used platform define views in different ways, with Facebook standing out the most, which is why our analysis only counted views lasting more than a minute. The data serves only to illustrate different user behaviour on the streaming platforms during the štream project.